The afternoon of March 31sthas witnessed a signing ceremony of the third donations for the Fund of Talent Recruitment. A sum of 180 million yuan was signed to attract high quality talents, supporting Wuhan University's developing strategy of "building a nest to attract a phoenix". So far, alumni donations for this fund have added up to 323 million yuan.

In the signing ceremony, Chen Dongsheng, Zhou Xuzhou, Mao Zhenhua, Jiang Liming, Cheng Licai, Wei Qizhi, Yu Peng and Zhongjia Capital (Wuhan) Investment Management Co. Ltd., an alumni enterprise, respectively signed the donation agreement on the Fund of Talent Recruitment. This ceremony was chaired by Vice President Zhou Yezhong and attended by Wuhan University's CPC Secretary Han Jin, President Dou Xiankang, Executive Vice President Feng Youmei, Vice President Li Jiancheng, heads of functional departments and representatives of student and faculty.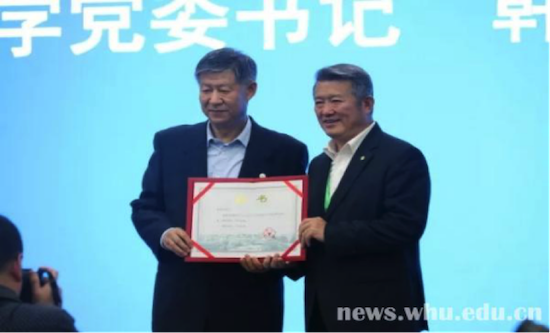 Han Jin is awarding the donation certifications to the donators
Feng Youmei is signing the donation agreement on the Fund of Talent Recruitment with the donators
Chen Dongsheng, President of Taikang Group, donated 20million yuan in the launching ceremony of the Fund of Talent Recruitment in August 2017. This time, he signed another 80 million yuan to his alma mater. The two donations inject a total amount of 100 million yuan into the fund.
"We are all beneficiaries of the 40years' Reform and Opening-up and what we have achieved in the past four decades should give the credit to the era," Chen, as the representative of these donators, said, "running a university is an arduous task that requires millennia's endeavor. Therefore, we alumni entrepreneurs will do everything possible to support the developing strategy with talents of our university."
Zhou Xuzhou, Chairman of U-home Group, launcher and director of this fund, has donated 50 million altogether, including 20 million in this ceremony.
Mao Zhenhua, President of China Cheng Xin International Credit Rating Co. Ltd., made another donation of 30 million to the fund this time. Plus the 10-million donation made in 2017, he has contributed to Wuhan University with over 100 million by far.
Jiang Liming, Cheng Licai, Wei Zhiqi, Yu Peng and Zhongjia Capital (Wuhan) Investment Management Co. Ltd.donated 10 million respectively to the fund.
During the ceremony, Cheng Licai, Wei Zhiqi and Yu Peng were appointed as directors of Wuhan University. President Dou awarded them the appointment certificates.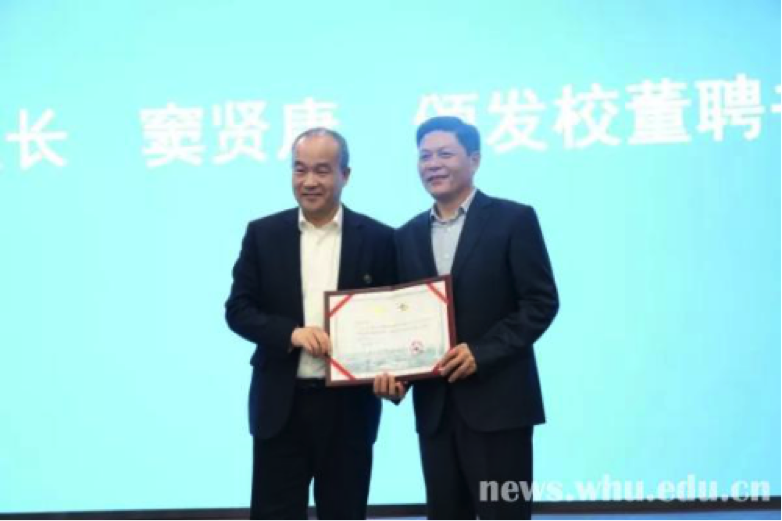 President Dou is awarding the appointment certificates
As a newly appointed director of Wuhan University, Yu Peng delivered a speech and stated that it was an honor and also a responsibility to direct Wuhan University and he would contribute to its future development by all means.
"Today's signing ceremony is another grand achievement of cooperation between Wuhan University and its alumni", Dou said. Last year was set as the "Year of Developing Universities with Talents", which has witnessed fruitful results. This long-term strategy will put more emphasis on the development of basic, mainstream and inter-discipline subjects, as well as recruiting more high-level talents. For the next 5 years, Wuhan University plans to introduce 20-30 top scientists and experts on humanities and 300 young and middle-aged intellects and provide them with tailored research and teaching platforms.
"We have Luojia Hill, East Lake, a century-honored history, and un unwavering tradition of cherishing talents. Additionally, with this Fund of Talent Recruitment, I believe our university can be a strong magnetic field to attract talents." Dou also illustrated that introducing talents could be far from perfection without an all-round concept of talents, so as to promote the talent training with more care for students.
President Dou also made a report to the directors, pointing out that Wuhan University has already made new achievements in the construction of Double First-class University and high-level disciplines. Besides, the increasingly important role of the alumni fund in talent recruitment contributes to breakthroughs in accommodating high-level talents. Also, alumni donations must be fully and properly utilized. Wuhan University will coordinate the work of in-school and out-school talents, harmonize the development of humanities and social sciences and train more innovative pioneers of the era in a student-oriented manner.
A group photo of attendees
Rewritten by Zheng Lingling, Edited by Shen Yuxi, Liu Jiachen and Liu Xiaoli