MUN stands for Model United Nations. An activity in which students typically role-play delegates from the United Nations and simulate UN committees discussing global environmental, political, social, cultural and economic issues. In other words, this is not an ordinary academic event where you could get bored. MUN allows students to substantially practice researching, public speaking, debating, and writing, as well as critical thinking, teamwork, and leadership abilities. And in case you're wondering, AIMUN stands for Asian International Model United Nations.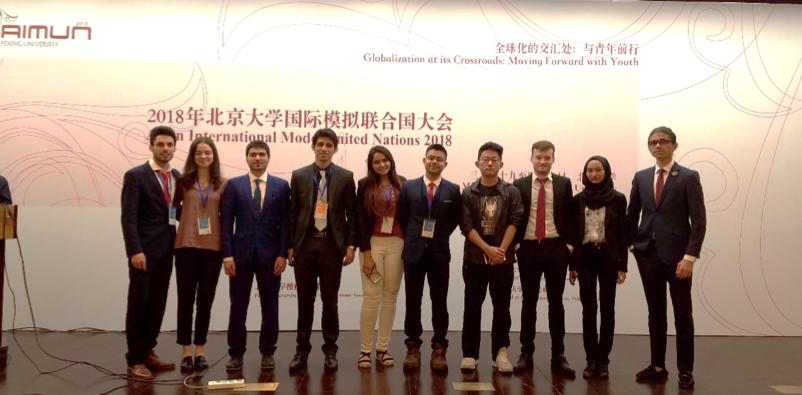 Wuhan University Delegation in the opening ceremony
MUN is supposed to be a scientifically-practical type of conference. In AIMUN, the official sessions were dedicated towards improving our academic skills and theoretical knowledge which we demonstrated while debating, whereas our practical, diplomatic and negotiation skills were utilized while having breaks and lobbying.
In AIMUN 2018, Wuhan University had their most competent team ever. We had students in all departments of AIMUN 2018, from Dais (member of chairs and organizers) to the main press conference to delegation. Roy Dilawer Khan was exclusively invited by the AIMUN 2018 organizing team to be placed as AIMUN Dais.
Wuhan University delegation
As one of the delegates from Wuhan University, I still remember the sleepless nights and the pressure we had from AIMUN 2018. Ever since we arrived in Beijing, each day the new sessions kept us in great suspense, not even the session itself. The AIMUN 2018 backstage was the most important part of the whole conferenceand apparently the most difficult one. What was happening there is very hard to describe: hours of negotiating and convincing in order to reach at least some sort of consensus, and hours of arguments and disputes to settle the issue. We had to use every drop of every skill in order to gain the upper hand. Some of our delegates spent more than 11 hours of negotiations behind the scene within one day. That means almost no sleep each day.
Wuhan University delegations with awards
Fortunately, all these efforts are rewarding eventually. Due to the extraordinary performance from the Wuhan University Team, 9 out of 10 participants received awards. The team just like last year, tried its utmost best. We not only got the complete experience of AIMUN 2018, but also brought home trophies. In AIMUN 2018, the Wuhan University team has performed better than ever and 9 team members were recognizedfor different awards such as "Best Delegate", "Best Journalist" and so on,
It goes without saying that a huge part of this success goes to the Wuhan University School of International Education for providing financial support and loads of encouragement for all the students. We also heartedly thank Ali Sina Balkhi, Freddie Cloke and Ethan Robertson from previous the WISMUN (Wuhan University International Students Model United Nations) team for taking initiative in AIMUN in the previous years. Our thanks also go to Felix Knapp, president of WISU for coordinating our journey.
The members of the Wuhan University delegation expressed their gratitude and excitement for participating in AIMUN:
Mohammad Maruf Bashiri(柯木迪)- Best Delegate(GA)
"It was an honor for me to be the Head-Delegate of the Wuhan University Team, it was more than amazing to work with all the members of my delegation. AIMUN, as I remember last year, takes every drop of every talent that you have. It was a significant performance from my amazing partner and all of the Wuhan University team. The sleepless night of AIMUN has passed, but the achievements and experiences that the Wuhan University delegation got will never be forgotten."
Mohammad Maruf Bashiri(right) and Sivova Daria(left) – General Assembly
Daria Sivova (斯黛丽)– Best Delegate (GA)
"AIMUN was a wonderful four-day journey of non-stop exchanging of ideas and opinions, sharing of experiences and knowledge, meeting new people and making friends, learning how to negotiate and convince people that your opinion and ideas are worth listening and understanding, and, of course, working like a harmonious mechanism with your co-delegate that later on became the main factor of success. Indeed, AIMUN is the best place to put your theoretical knowledge into practice."
Shi Jingjing (石京晶)– Best Journalist (Associated Press)
"Partaking in the 2018 AIMUN as a member of the Main Press Center is definitely one of the most worthwhile and amazing experiences I've ever had. Representing one of the reporters of the Associated Press and successfully holding the associated press conference made me more confident, and it's lucky for me to play an important role in prompting the course of conference by interviewing and reporting with knowledge of specific topics and awareness of international media power. Indeed, all those talented young people I met there inspired me a lot, and from them I learned much and realized the meaning of MUN. Let's keep calm and love MUN!"
Shi Jingjing (石京晶)winning the Best Journalist award
Felix Knapp (柯逸飞)– Best Delegate in Crisis, also Outstanding Delegate (ECOSOC)
"With the motto of 'Globalization at its crossroads', AIMUN was a platform to meet people from many different places in order to discuss the global problems nowadays, and to find solutions that will reshape our planet in the future. The experience of taking part in such a big, international event is definitely worth the effort we put into research and preparation and is something we'll profit from for our whole lives."
Felix Knapp and Mira Mastura
Mira Mastura (蜜雅)– Outstanding Delegate (ECOSOC)
"As the biggest MUN conference I've taken part in so far, participating in AIMUN was definitely a great experience. The organization was impressively professional, the discussions and debates with other delegates were both fierce and challenging. I'm glad that I decided to join AIMUN, because this conference has not only strengthened my qualities as a delegate, but also has provided me with knowledge that will help me optimize future MUN conferences in Wuhan University."
Prih Bukhari – Honorable Mention (GA)
"First of all I feel very lucky and thankful to AIMUN for providing me chance to be part of such an event. For me it brought out the best in me. It helped me to construct some political skills in myself. Also it taught me to be diplomatic, to feel the weight of humanity in the palm of my hands, and to know that each decision I make have many implications. Overall, it was an amazing experience which not only brought a sense of diplomacy to me but also taught me the small tactics (lobbying and socialization) which can make a huge difference in decisions."
Prih Bukhari and Said Tarik Saglam – General Assembly
Said Tarik Saglam – Honorable Mention (GA)
"The experience of AIMUN can be regarded as one of the most amazing experiences I have ever had in my life. It brought out skills of research, intellectual thinking, socialization, self-confidence and a sense of diplomacy in me. Before, I was nervous and insecure. Now I'm sure and confident. I really appreciate AIMUN for truly opening my eyes to a world of possibilities and widening my horizon to see the myriad of possible solutions to solve the world's most pressing problems."
Fahama Sharif (沙瑞夫)– Honorable Mention (UNICEF)
"After months of rigorous training and passing different tests and interviews, I was finally selected for representing Wuhan University at AIMUN. Being part of the biggest MUN event in Asia is certainly a "Dream come true" moment for me. At AIMUN, everyone gets a chance to speak, your voice is being heard, and your ideas are going global! It is your chance to dream, travel, gain lifetime experiences and get out of your comfort zone!"
Fifth from the right, Fahama Sharif winning an award

Sayed Hamid Hashemi (沙叶德)– Best Position Paper (UNWOMEN)
"In my opinion, MUNs are not only a diplomatic and legal educational program but art as well. Art of acting! When one puts himself in a delegate's place, he is acting! Combination of diplomacy, law and acting forms an interdisciplinary program which only AIMUN 2018 could present."
Sayed Hamiddulah Hashemi – UNWOMEN
Tao Kefan (陶珂凡)
"Actually, this is the second time I take part in AIMUN. It was really a wonderful experience. I tried much harder than last year and finally I made more friends and learned a lot. MUN activities are still the most attractive events for me. I am very happy, and it is my honor to be a part of the Wuhan University group. I enjoyed the time! Thank you, AIMUN. Thank you, Wuhan University!!!"
Roy Dilawer Khan, AIMUN 2018 Dais Member
"Chairing AIMUN and guiding the Wuhan University team was intellectually both challenging and rewarding for me. To be honest, I learnt much more as a chair than I could ever had as a delegate. It was matter of pride and honor for me to be invited as a chair in AIMUN, and also as the only non-Beijing director of any committee."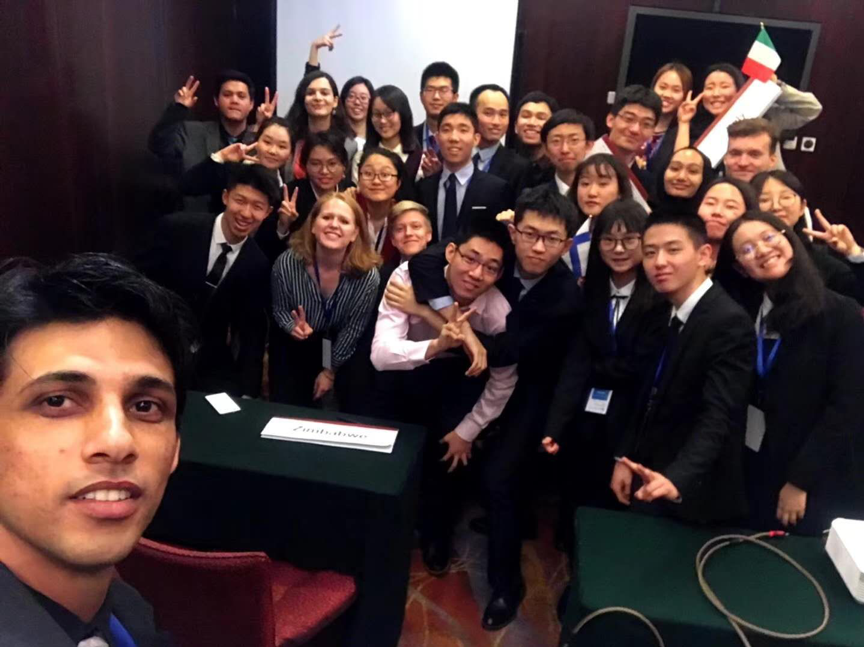 Roy Dilawer Khan – Dais Member of ECOSOC